Cretaceousland! is here to provide you with a dream vacation that'll give you nightmares for the rest of your life, however short it may be. And that's only if you get out of here alive. The odds aren't good. Most of our visitors have the words "toe tag" in their immediate future.
While we truly believe everyone deserves their very own personal Dinosaur Dream Vacation, nature doesn't always see it that way. Just keep reminding yourself that death is nature's way of saying "Vacation's over!"

We've thrown together several vacation packages for you to choose from. We don't actually expect you to want them so just show up at our front gate, walk in, and pray you can stay alive past lunchtime, er, noon. Our friendly staff is here to serve you... literally. We really care about your needs, but only to a certain point. However, we can almost guarantee this will be one vacation you will always forget to never remember. Ever.
Cretaceousland!, a division of the Center for Cretaceous Studies, has been giving clients, families, and vacationers exciting adventures for many, many, and numerous years.
Of course, we don't actually go
in
there with them. We totally understand the history of these creatures, and we want to share it with our guests, not be a part of it. They're called
Terrible Lizards
not
Cuddly Lizards
.
Hey, at the end of the day YOU get to go home. Well, ok, sometimes. WE, on the other hand, have to show up for work again tomorrow.
YOU'LL BE PUSHING UP DAISIES TOO IF YOU FALL DOWN!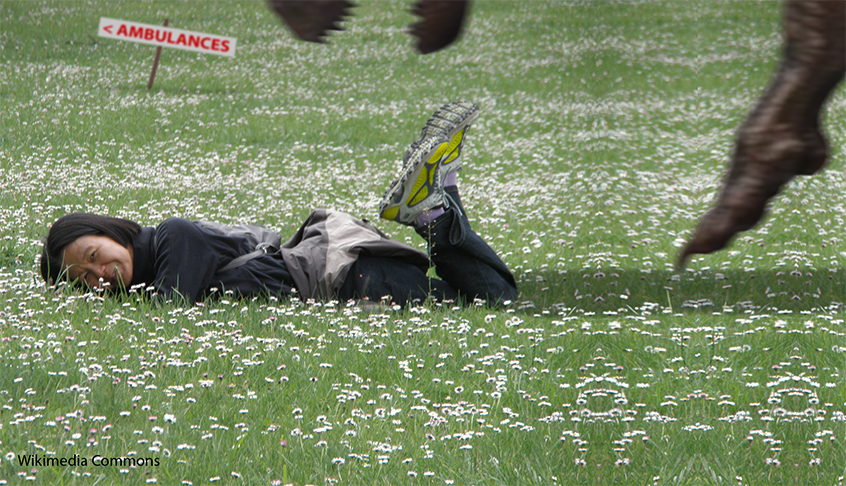 Clothing? We Recommend Wear Something Comfortable - To Eat
THE COMPLETE HISTORY OF CRETACEOUSLAND! part one
Cretaceousland! grew out of the need for our DinoResidents to 'stretch their legs' while they were being studied at The Center for Cretaceous Studies. Minutes after the C4CS was founded, CEO and founder, Dr. S Beckmann realized that keeping a young, boisterous, 20-foot, 2-ton, carnivorous giant in the same room as scientists, scholars, and paleo-students was probably not the best idea ever.
The Center for Cretaceous Studies has housed these creatures in various indoor pens since it's inception. Eventually it was determined by the Board of Director (there was only one left by the time this decision was made) that keeping all these animals was costing, literally, an arm and a leg. So the Board guy asked,
"Hey, why not get these things out of here? Somewhere outside, away from me, and charge admission to boot? Invite the unsuspecting, er, friendly public to see these man-eating killers?"
Since that day, Cretaceousland! has been at the forefront in emergency medical procedures while bringing live Dinosaurs and the general public together, rarely in a good way.
GIMMEE BACK MY DADDY! DADDY?? COME BACK OUT!!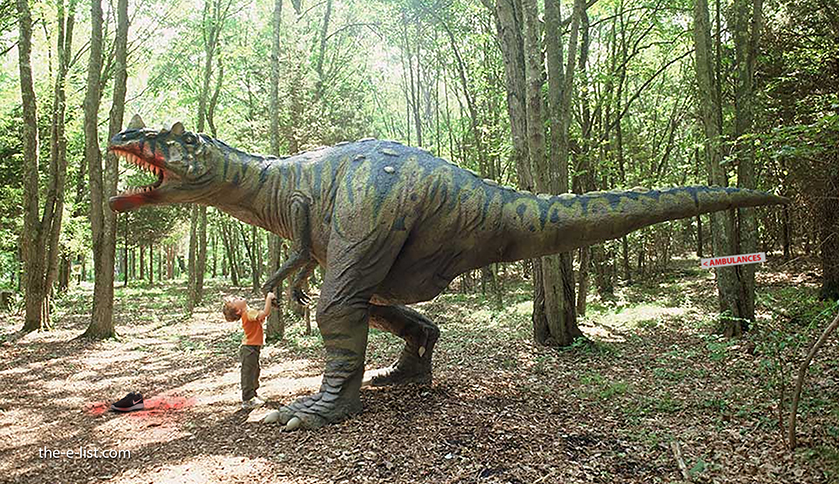 Why SURE You Can Walk Around Inside Our Outdoor Habitats!
It took 117.3 different fence companies to get our security perimeter fencing up and operational. Some day we hope to finish the job. Many of the contractors quit at first sight. Some actually refused to start right in the middle of signing the contract. Some never showed up after the first mid-morning union break. But most, umm, 'helped' in lowering our feed bill, shall we say.

Today you are completely safe for minutes at a time before the 50-gazillion volt electrical fencing system poops out again. But that just adds to the excitement and complete sensory overload of being here in person and part of Cretaceousland!.
INTIMIDATING GATE - SOMEDAY WE HOPE TO HAVE ONE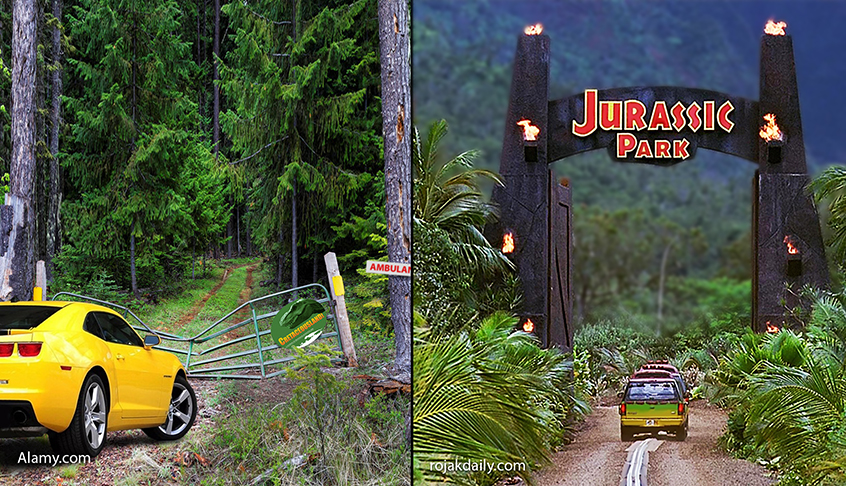 It's Difficult To Tell Which Gate Is Real And Which Is The Hollywood Prop, Isn't It?
CRETACEOUSLAND! BACKGROUND INFO
Today, Cretaceousland! offers outdoor exhibits, rides, Life Flight helicopter service, and numerous Dinosaur-related experiences to anyone stupid enough to actually walk inside an area known to be filled with live Dinosaurs.

Cretaceousland! offers acre upon acre of parkland setting which can only be measured in square miles. Although some people consider all this area as necessary for the Greater Carnivores (those individuals weighing one ton or more), we tend to think of it as "running room" for our visitors and guests.

Unlike most U.S. National Parks where you have a small chance of spotting wildlife, Cretaceousland! was built with the intention of getting you maximum time of face-to-face encounters while having all sorts of family fun and adventure with our savage, brutal, prehistoric kil... er, uh, our cute-as-a-polar-bear-cub DinoResidents.
OUR EXPERTS CAN SPOT A DINO FROM MILES AWAY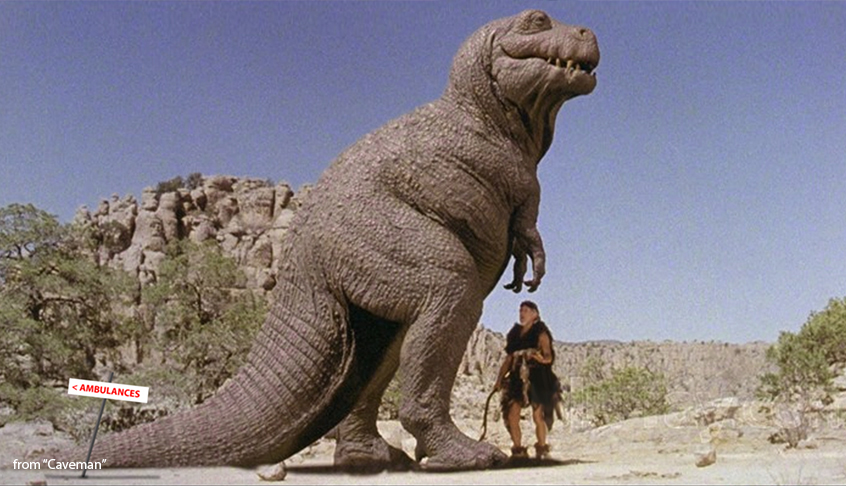 Never Use Our Animals For Shade. This Breaks At Least A Dozen Rules.
If you can make it through the entire Reserve alive, and are extremely careful (i.e. lucky), you will see most, if not every one, of these extremely rare, extremely large, animals. Unfortunately, most of our visitors only get to see one. A fact that the Cretaceousland! Coroner calls "One & Done". And, if you're brave enough to get out of your car in the parking lot, you'll discover first-hand what it was like millions of years ago to be stalked and chased down by the largest carnivores to ever walk on this planet! Wow! Wow! OW!!

A few small incidentals to remember: First, there are no namby-pamby plant-eating Dinosaurs here at Cretaceousland!. b) not all Dinosaurs are huge, 40+ feet in length. There are at least 30 species in the Reserve under 15 feet in length. However, they all have sharp teeth just like the big guys - and the smaller versions move a LOT faster than the big guys.

We call the paragraph above "incidentals" because chances are you will be involved in an "incident" while visiting (2012 average: 99.885% chance). Luckily, such incidents are fatal only most of the time. Our prehistoric carnivores do not always kill to eat. In fact, many of them seem to enjoy a 'thrill kill' much like you vs. that piece of pie in the fridge. So don't think feeding them your hot dog - or your real dog, for that matter - will deter them or your loved ones from what is probably about to happen.

And speaking of dogs, we encourage you to bring pets into Cretaceousland! [refer to pg. 314 in your copy of the C4CS - Cretaceousland! Rules & Regulations, aka "Mr. Happy Waivers"]. In fact, let them run around inside the Dinosaur Habitats unleashed! However, the C4CS and Cretaceousland! are NOT responsible nor liable nor anything for their safety or your life-expectancy should your dog start barking at 5-ton, 8"-toothed predators while you stupidly continue holding onto the leash. [refer to pgs. 315-338 "Pet Cemetery" in your copy of the C4CS - Cretaceousland! Rules & Regulations]
'T' ABOUT TO DO HIS VERSION OF LASSIE VS. GODZILLA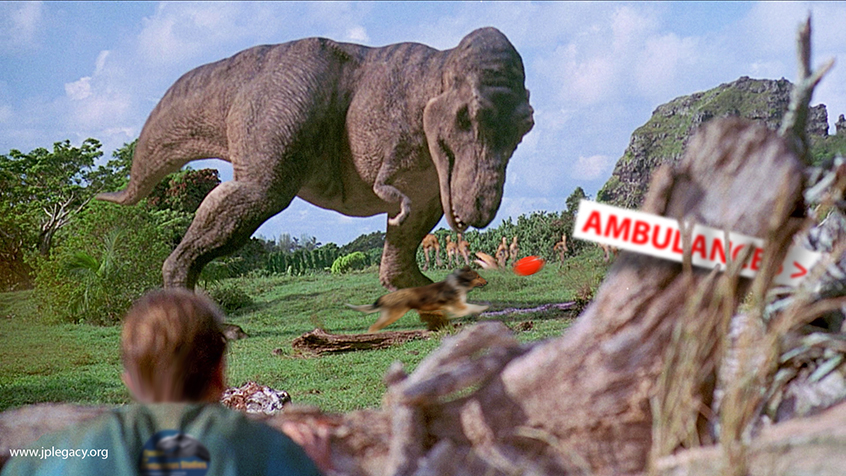 Timmy!! Stop Throwing That Frisbee!
Your small, puny, token, admission fee helps us to care for the animals and allows you to come in, see, experience, and run from, live, breathing, Dinosaurs. Small, puny, token, admission fee loans are available at kiosks set up in the front foyer at the C4CS, just like the Sunglasses Hut at your favorite nearby shopping mall.

Your admission fee aids in the upkeep of Cretaceousland! while your physical entry into the DinoReserve aids in the lowering of our feed bill. Introduced in 2010 are Cretaceousland! Memberships, a few of them are nearly affordable. Just click on 'Membership' in the navigation area above for more information. We'd like to thank you for your support! But don't get all giddy and excited... we said we'd like to. That doesn't mean that we will.

CRETACEOUSLAND AWARDS
Last summer Cretaceousland! was honored by being awarded "Best Theme Park/Animal Reserve With Live Dinosaurs" by the writers of 'Ambulance & Paramedic Services' magazine. Also, for the 26th time in 24 years, we took first place in the 'Emergency Life Flight Monthly' Reader's Choice awards, a prestigious award given only to those institutions using life-flight helicopter services and promoting better emergency life-saving efforts. We sorta excel in those categories. And amazingly, we have already been nominated for both awards again this year. At the time we hadn't even been open for a month! Huh. Imagine that.
For years, children of all ages have made this the trip to last a lifetime, which is usually how it turns out. BE A PART OF IT!!




To Find Out About Job Opportunites Here (WHY?!?), Write
CretaceouStudies@aol.com or CretaceouStudies@yahoo.com or CretaceouStudies@gmail.com