CRETACEOUSLAND! is a great place to stretch your legs, get some clean, fresh air, go for a walk with a loved one or the entire fami...
hahahahaha!!!
Sorry. Even
we
couldn't keep a straight face on that one.
Exactly how fast does a
Spinosaur
run? Does a
T. rex
run like a modern day chicken, or does it hop around like a sparrow? Which giant
Thunder Lizard
runs like a Road Runner?
Scientists everywhere are still guesstimating after 66 million years. Well, Poindexter, we have known for decades! Now YOU can find out first-hand for yourself at Cretaceousland!s RUNNING FROM DINOSAURS!. Just don't stop to look behind you, ok?
Be part of a DinoExperience so popular it spawned our Semi-Tri-Annual "Run With The Dinosaurs Marathon/Sprint" event, until 2006 when we sort of 'ran out' of participants. For years runners vied for the coveted Golden Life Support Trophy, or maybe the exit. Funny thing though, in all those years we never gave out a single trophy. Hmmmm...
Added in Spring 2009, all new construction and somewhat improved safety features are now available to enhance your visit! And that's one thing everyone who comes to visit a live Dinosaur Reserve needs: enhancement! RUNNING FROM DINOSAURS!! now offers much more time with thisclose of an encounter between you and our carnivores.
How'd we do this? Easy! By utilizing over 239 different constuction companies (many vanished, some didn't show up after day one) we have extended the distance between the Entry Port to the Exit Port. We've also reconstructed the jungle floor, making it much more difficult to navigate. We've introduced 9 new meat-eating species, each of them over 20 feet in length.
For your comfort we've built on-the-course lavatories although we highly recommend you never use them. Each has a standard locking mechanism for your privacy with toilet paper sold in individual sheets from vending machines located next to the sink.
All this and more will make your visit memorable, even if you try to block it out in therapy.

Soooo Speedy... think you can make it to the Exit Port before our T. rex spots you in the Habitat and catches you - and then uh, tickles you?? Do ya think you can outsprint a group of Utahraptors (the smallest of the species in the exhibit) through vines, lush green forest floor, and dead ends? Maybe - just maybe - you think you can dodge the grasping claws of the Xenotarsosaurus? Come on! Give it a try!

With all the amenities in place, it's only "about" 220+ yards or so (we have no verifiable survivor information to the exact length) through tremendous prehistoric underbrush, large puddles of insect larvae-infested mud and stagnant water, decaying vegetation and partial remains of former visitors, swarms of insects, fallen logs covered with slippery Cretaceous Period moss... now THIS is fun to the MAX!! Almost more than one of our visitors has already made it through this traumatic exhibit!
ENTRY PORT CAN SOMETIMES GETS A LITTLE CROWDED
Remember: You Have NO Maps Or Ideas Of Where To Run. We'd Suggest NOT Following The Blood Trails.
Just ask Julie Verley (1983-2005). Her traumatized voice, recorded from her ICU hospital bedside, will guide you through the preparation (aka "crying, sobbing") at the Entry Port. Even as her heart-lung machine whirs in the background, you can hear her gasp
"you are about to enter the greatest boots-on-the-ground DinoExperience at Cretaceousland!. See you soon!"
With any luck, you can be just as fortunate as Julie was in her RUNNING FROM DINOSAURS! experience. And if not, well... there's always HERO HALL waiting for your inclusion (for those who don't return).
(For more information on
HERO HALL
, visit the C4CS website)
What's it like inside the Habitat? Feel the ground tremble with every foot stomp from these huge carnivores as they get up to running speed toward you! We've noted that once they get close enough, the unstable ground, brought on by a 3-to-6-ton carnivore running at you, will cause you to lose your footing and you'll probably fall to the ground. Basically, it's like trying to run during a minor earthquake. In other words: easy pickin's. Our suggestion: don't fall. Or better yet- don't let them get that close! And do your best to block out the ungodly loud, ear-splitting, bellowing as they close in for the kill...er, race.
Who will win? Who? WHO?? Lord knows our employees don't care. In fact, they don't want to get anywhere NEAR this crapfest. If you ask for directions to this DinoExperience, they won't take you there. They'll only point, and do so very timidly. It's like they know there is reason to be afraid. Very afraid. Before you enter, you might want to see if you qualify for our Last Rites Ceremony Package, and please do NOT forget Mr. Happy Waivers.
THE ORIGINAL "RUNNING" GATE, 1965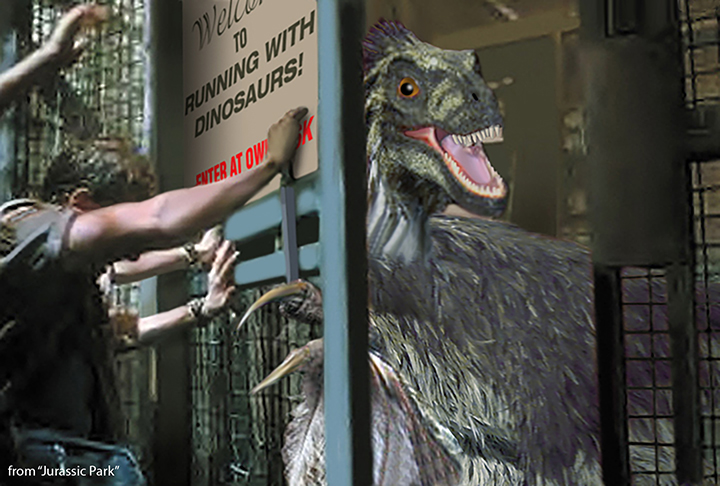 Hey! You Forgot To Knock Before Entering! Final Score: Raptor 1 People 0
RUNNING FROM DINOSAURS! will give you plenty to talk about back at the office, once you've parked in your newly acquired handicapped spot, or during convalescent visiting time at your local medical facility.
This experience is just like the running of the bulls at Pamplona, Spain, only it... well, ok, it's NOTHING like Pamplona at all. In fact, this makes the Pamplona event look like those guys are being chased by cuddly little puppy dogs. Our "puppies" will eat you.
DON'T YA JUST HATE IT WHEN THE FENCING ENDS?!?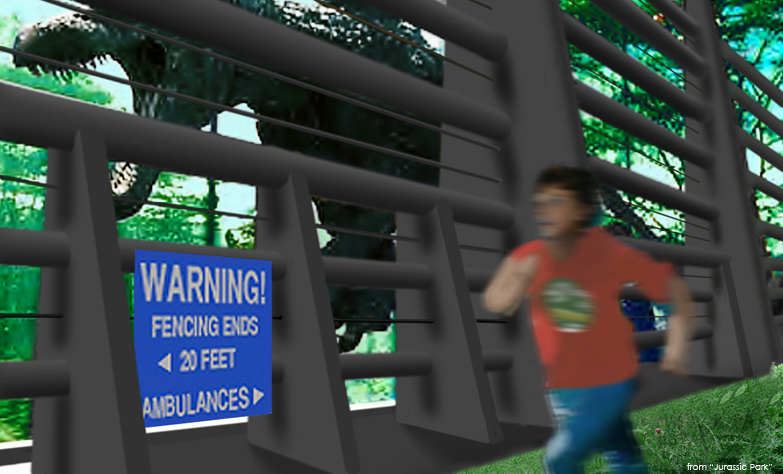 What Do You THINK This Is... JOGGING From Dinosaurs?? If It Was Easy, Everyone Would Do It
OPENING DAY AT THE ALL NEW RUNNING FROM DINOSAURS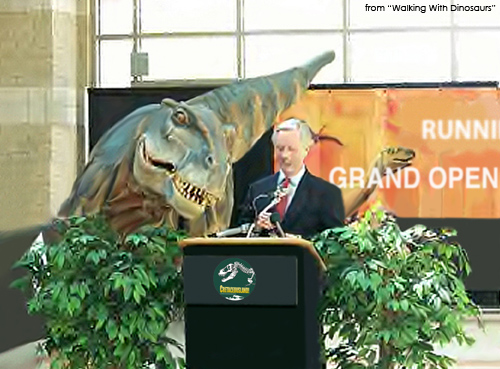 The Mayor ALMOST Made It To The Second Sentence
AND THEN SOME TOURISTS ARE JUST IDIOTS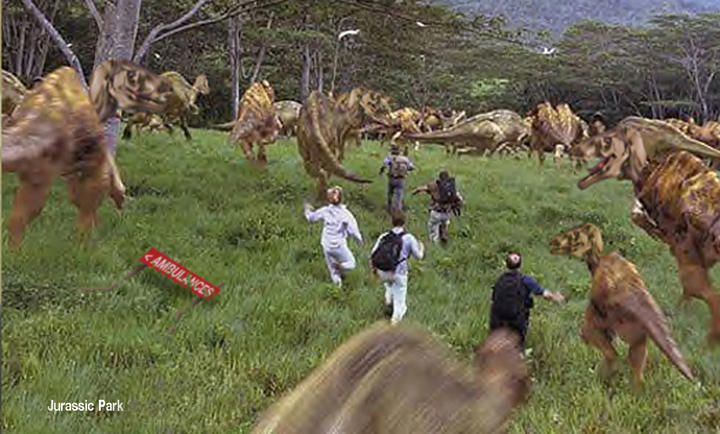 Ok People, Listen Up: The Idea Is To Run FROM Them, Not TO Them. Duh.
*CAUTION: Many of our participating runners have made the grave mistake (literally) of stopping on the course during their run to check their GPS, or pleading/sobbing into security cameras. Most of them panting-hyperventilating things like "I never knew I could scream this loud!" or "Where is my other leg?!?" Although legally this can qualify as a Final Testament, we do NOT recommend stopping any time on the course during your run.

Remember: you can't get the complimentary Cretaceousland! oxygen and your choice of a free (for a nominal fee added to your admission loan) Pastor, Priest, or Spiritual Advisor, if you don't try!
JUST WHEN YOU THINK IT'S GOING TO BE OK, IT ISN'T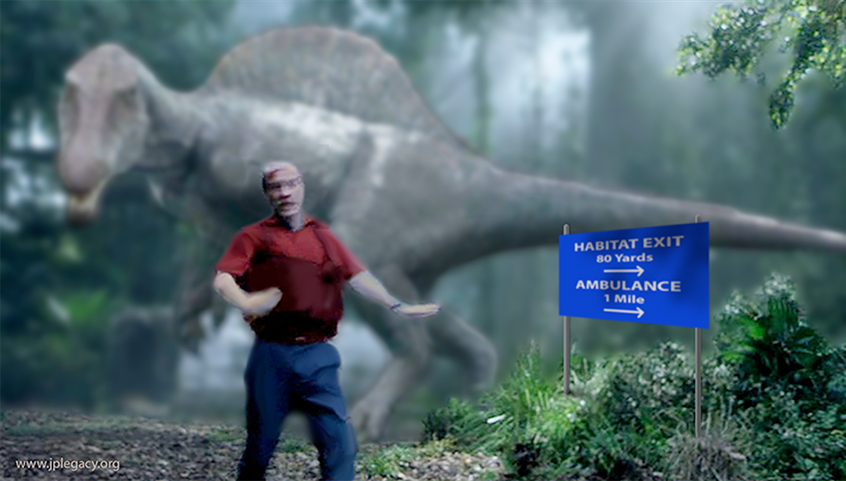 Hmmm... Bad Running Form AND Screaming? We Sure Hope Mr. Happy Waivers Is Filled Out Properly
SMALL (5ft) AND VORACEOUS CRETACEOUS EATERS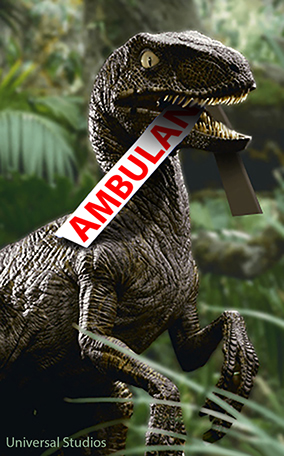 They'll Eat Anything That Moves, And Some Things That Don't
To become a volunteer or to contribute money, a LOT of money, write
CretaceouStudies@aol.com or CretaceouStudies@yahoo.com or CretaceouStudies@gmail.com