WELCOME TO
CRETACEOUSLAND!
The Center for Cretaceous Studies
and most likely the world's ONLY
Live Dinosaur Reserve & Theme Park
UH OH. THEY'RE PLAYING "TEST YOUR BRAKES" AGAIN
We Still Have No Idea Why The Tyrannosaurid Crossed The Road.
PROUD MEMBER OF THE MID-AMERICA PALEONTOLOGICAL SOCIETY
even though they asked us to go away

Look For The Center On Facebook!

why? for what sane reason would you do that?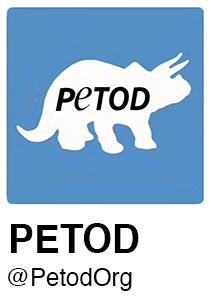 People for the Ethical Treatment Of Dinosaurs. Charter Member Since We Joined Last Week
WELCOME to the official CRETACEOUSLAND! website you poor misguided soul!

You've just discovered the only LIVE Dinosaur reserve and theme park on the entire planet!
With the DinoResidents back for another summer season, here's what you can expect: overloaded senses, ditto the underwear -- plus a lot of ambulances... a LOT. All the while running around and from real, live, breathing, roaring, ferocious, carnivourus, ravenous, killer Dinosaurs inside pretty, flower-filled, outdoor Habitats filled with lovely butterflies and wonderful, chirping birdies!

You'll experience Terrible Lizards that will tear you, your family, your friends, and people you don't even know to shreds with no hesitation whatsoever with a devastation so severe it will actually hurt your ancestors. But don't worry... you can still pet them!

As the world's only live DinoReserve, CRETACEOUSLAND! is located just a quick ambulance ride from The Center for Cretaceous Studies. In fact, we fight over the same parking spots.

So detailed and exact in the presentation of natural Cretaceous Period conditions, our scientists have gone to great lengths (+/-2 centimeters) to raise the same vegetation found dozens of millions of years ago -- much to the chagrin of the U.S. EPA. We've been in court over most of this stuff for decades.

We'll give you the opportunity to see Cretaceous Period flora and fauna in outdoor Habitats (HABs) as they originally, naturally appeared 65+ MA (Million Years Ago), or BA as we call it (Before Asteroid). This also gives you an excellent chance to contract some heretofore unknown and probably incurable prehistoric disease or allergy! See? It just keeps getting better and better, doesn't it?

Take a moment or three to see what's in store for you and your family this summer when you resign yourself into visiting CRETACEOUSLAND! as a last ditch vacation idea, which it usually is.

Educational? Nope. Fun? Nah. Good value for the money? No way.
None of these apply here. But odds are, you'll never get to, er... want to... leave!

BOOKMARK this site for future news and information, as the CRETACEOUSLAND! company information (aka: water cooler rumors), found below, is updated every time we have a reporter who survives another day here during the season!

We think you'll agree with that one guy who made it out of here alive:
A day at CRETACEOUSLAND! is like no other!


CEO & FOUNDER JUST BEFORE BEING ASKED TO LEAVE DIG

Booted From Hundreds Of Sites Hasn't Stopped Him From Screwing Up Around Here
THE CRETACEOUSLAND! NEWSUNDIES, er, NEWSBRIEFS
The Latest And Sorta-Kinda Up To Date Information On Who...What...Where...When...And Why ME?
On All Things CRETACEOUSLAND!
LAST UPDATED 6 JULY 2015
SMALL PLANE CRASHES ONTO LAKE DEATH BEACH
Pilot Will Probably Reappear In 2-3 Days Says DinoPoop Squad
A small plane that was towing an advertising banner reminding people to be safe while visiting Cretaceousland! crash landed yesterday on a crowded Lake Death beach after its engine fell out.
The single-engine Piper PA18 lost engine power shortly after 1 p.m. and crashed on Lake Death Beach about 112.625 yards south of the Deadly Docks, Cretaceousland! officials said.
The 844-foot long banner proclaimed,
HEY! WHATEVER YOU DO, PLEASE KEEP SAFE WHILE YOU AND YOUR FAMILY AND FRIENDS ARE VISITING CRETACEOUSLAND! AND THE CENTER FOR CRETACEOUS STUDIES. OK?
The pilot of the plane suffered minor injuries before being eaten by a 26-ft.
Suchomimus tenerensis
and the plane was taken to a garage near the lake, according to the Security Department.
One person on the beach was also reportedly eaten after the crash landing and was reported to be in MPE (Missing, Presumed Eaten) condition.
According to witness accounts, the plane's engine fell out and then the pilot dropped the banner the plane was towing, before augering in, apparently looking for a place to land that wasn't occupied by a man-eating DinoResident.
When the plane's wheels hit the sand, they fell off, witnesses said.
"That's gotta be the crappiest airplane I've ever seen,"
said Hugh Sakov, who witnessed the incident but continued to play volleyball with friends.
The plane was rented to Cretaceousland! in order to tow the safety banner during the holiday weekend. Skeptics said the banner outweighed the airplane by at least 300 pounds. Several witnesses said the engine sounded as if it was straining before falling out of the plane.
C4CS officials are investigating what may have caused the plane to crash. They have to. No federal agency (FAA) will come
near
this dump to look at a plane crash.
Read the REAL story: Small Plane Crash Lands on Crowded California Beach
ANOTHER RUNNER CELEBRATES TOO EARLY IN HAB39
When Will They Learn, Asks Coroner

Some advice for Habitat runners out there — even if you think you're in a safe place, don't slow down...and definitely don't celebrate before crossing through the exit.

Thad Hertz says he thinks his friend "must have thought he was a few good steps in front of that thing (Chilantaisaurus tashuikouensis)" during a DinoAlert! in Habitat (HAB)39.

Moments before crossing the emergency exit, his friend Hugh Jim Bissell of Atlanta, Georgia, slowed down and threw up his hand in celebration.

Cretaceousland! Coroner Barry M. Diep reports the man was so close to making it that it took a photo to figure out why he didn't make it.

Cretaceousland! officials declared the 34-ft. 3.7-ton Chilantaisaurus the winner — Bissell came in second by 9/100 of a second.

While looking over casket choices, Hertz said, "I noticed out of the corner of my eye he had his arm up celebrating just before he got to the gate. And you know that you need to get to that gate first. Then you celebrate.

"He was probably thinking, "I bet I have a couple steps on him." But that Dino put a pretty hard surge at the last second obviously."
Read the REAL story: Runner celebrates too early, loses big race
WEBSITE CHANGES UPDATE
We Give Up

We've been running this "warning" for nearly 5 months now, and Tripod.Lycos has yet to do anything. The C4CS Board of Directors long ago figured that by now this site would no longer be up and running, but here we are.

Tripod is supposedly shutting down the Trellix server or something like that. Basically, it means we'd have to switch to a different program. So far that has yet to happen. So we'll see what takes place instead of shrieking that the sky is falling.

What this means is, if one day you visit this site and it is not available, chances are pretty good that Tripod has shut down the server for this website-producing software. There IS a partial website reconstruction underway, just in case.