WELCOME TO
CRETACEOUSLAND!
The Center for Cretaceous Studies
and most likely the world's ONLY
Live Dinosaur Reserve & Theme Park
EARLY MORNING DINOMOVE VOLUNTEER RUNS IN RAIN
Like So Many Others, He Never Made It To Cretaceousland! According To Our Records
PROUD MEMBER OF THE MID-AMERICA PALEONTOLOGICAL SOCIETY
even though they asked us to go away

Look For The Center On Facebook!

why? for what sane reason would you do that?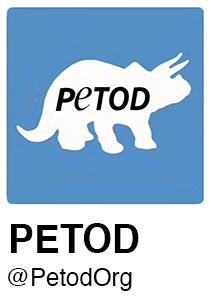 People for the Ethical Treatment Of Dinosaurs. Charter Member Since We Joined Last Week
WELCOME to the official CRETACEOUSLAND! website you poor misguided soul!

You've just discovered the only LIVE Dinosaur reserve and theme park on the entire planet!
What can you expect to find while you're here? Expect to experience Terrible Lizards that can and will tear you, your family, your friends, and people you don't even know to shreds with no hesitation whatsoever with a devastation so severe it would actually hurt your ancestors. But don't worry... you can still see them, pet them, run from them, etc.

As the world's only live DinoReserve, CRETACEOUSLAND! is located just a quick ambulance ride from The Center for Cretaceous Studies. In fact, we fight over the same parking spots.

So detailed and exact in the presentation of natural Cretaceous Period conditions, our scientists have gone to great lengths (+/-2 centimeters) to raise the same vegetation found dozens of millions of years ago -- much to the chagrin of the U.S. EPA. We've been in court over most of this stuff for decades.

During our summer season we'll give you the opportunity to see Cretaceous Period flora and fauna in outdoor Habitats (HABs) as they originally, naturally appeared 65+ MA (Million Years Ago), or BA as we call it (Before Asteroid). This also gives you an excellent chance to contract some heretofore unknown and probably incurable prehistoric disease or allergy! See? It just keeps getting better and better, doesn't it?

Take a moment or three to see what's in store for you and your family this summer when you resign yourself into visiting CRETACEOUSLAND! as a last ditch vacation idea, which it usually is.

Educational? Nope. Fun? Nah. Good value for the money? No way.
None of these apply here. But odds are, you'll never get to, er... want to... leave!

BOOKMARK this site for future news and information, as the CRETACEOUSLAND! company information (aka: water cooler rumors), found below, is updated every time we have a reporter who survives another weekend!

We think you'll agree with that one guy who made it out of here alive:
A day at CRETACEOUSLAND! is like no other!


CEO & FOUNDER JUST BEFORE BEING ASKED TO LEAVE DIG

Booted From Hundreds Of Sites Hasn't Stopped Him From Screwing Up Around Here
THE CRETACEOUSLAND! NEWSUNDIES, er, NEWSBRIEFS
The Latest And Sorta-Kinda Up To Date Information On Who...What...Where...When...And Why ME?
On All Things CRETACEOUSLAND!
LAST UPDATED 1 MAY 2016
OPENING DAY!!! SPRING DINOMOVE DRAWS IN THOUSANDS!!!
Of Pints Of Blood


It's MAYDAY! Opening Day here at Cretaceousland! brings about many thoughts and feelings amongst our employees, none of them good (the thoughts and feelings, not the employees. Well... )
Although the weather is crappy outside - overcast, scattered showers, cold - it's very good for running, which a LOT of our 2016 Spring DinoMove volunteers happen to be doing at this very minute. Habitats (HABs) here at Cretaceousland! are filling up rapidly as the animals move from The Center - and employees move to the parking lot exits - throughout the day.
The skies continue to buzz with the sounds of Life Flight helicopters from CFI Care, one of our sponsors of the 2016 Spring DinoMove. Supervisor Patty Pewper, who also volunteered as a nurse's assistant, said the number of fatalities is
"up a bit from last year, but not all that much,"
before stating
"Oh who am I kidding? It's another slaughterhouse out there. That's why I'm calling in this report from home. I'm going to nurse this vodka as long as it takes."
The 2016 Spring DinoMove began on time early this morning. Volunteers knew precisely when as the screaming and roaring became deafening. That was followed very quickly by a mass of panic running, known to those watching from the grandstands as 'the wave'. Cutting the ribbon at this morning's ceremony was some guy who mistakenly agreed to do it. The C4CS Coroner said the identity of the victim should be known later this week.
SELFLESS BOOK PROMOTION TO FOLLOW
Real Book? Seriously? Available Now? Can We Keep Asking Questions?


Yes Virginia, there really
is
a book about our parent company, aka this death trap!
Grab your copy of
"The Center for Cretaceous Studies"
before they sell out! Ok, that might be stretching it a bit. Anyway, pick one up at these fine bookstores:
AuthorHouse (eBook and paperback)