WELCOME TO
CRETACEOUSLAND!
The Center for Cretaceous Studies
and most likely the world's ONLY
Live Dinosaur Reserve & Theme Park
OH CRAP. SOMEONE LEFT THE GATE OPEN AGAIN
Ever Since They Saw That Movie They ALL Like Sheep & Goats
PROUD MEMBER OF THE MID-AMERICA PALEONTOLOGICAL SOCIETY
even though they asked us to go away

Look For The Center On Facebook!

why? for what sane reason would you do that?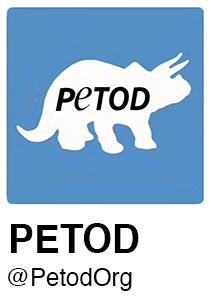 People for the Ethical Treatment Of Dinosaurs. Charter Member Since We Joined Last Week
W
ELCOME to the official CRETACEOUSLAND! website you poor misguided soul!
You've just discovered the
only
LIVE Dinosaur reserve and theme park on the entire planet! What can you expect to find while you're here - besides your worst nightmares coming true?
NOTHING.

Sorry folks, but we moved 'em all back indoors to The Center for Cretaceous Studies for the winter months ago. Where have you been?!?

However, next Spring (1 May), you can once again - or just once - enjoy terrible lizards that can and will tear you, your family, your friends, and people you don't even know, to shreds with no hesitation whatsoever with a devastation so severe it will actually hurt your ancestors. But don't worry... you will still be able to see them, pet them, run from them, etc.

As the world's only live DinoReserve, CRETACEOUSLAND! is located just a quick ambulance ride from our parent company The Center for Cretaceous Studies. In fact, we fight over the same parking spots.

So detailed and exact in the presentation of natural Cretaceous Period conditions, our scientists have gone to great lengths (+/-2 centimeters) to raise the same vegetation found dozens of millions of years ago -- much to the chagrin of the U.S. EPA. We've been in court over most of this stuff for decades.

We'll give you the opportunity to see Cretaceous Period flora and fauna in outdoor Habitats (HABs) as they originally, naturally appeared 65+ MA (Million Years Ago), or BA as we call it (Before Asteroid). This also gives you an excellent chance to contract some heretofore unknown and probably incurable prehistoric disease or allergy!

See? It just keeps getting better and better, doesn't it?

Take a moment or three to see what's in store for you and your family next summer when you resign yourself into visiting CRETACEOUSLAND! as a last ditch vacation idea, which it usually is.

Educational? Nope. Fun? Nah. Good value for the money? No way.
None of these apply here. But odds are, you'll never get to, er... want to... leave!

BOOKMARK this site for future news and information, as the CRETACEOUSLAND! company information (aka: water cooler rumors), found below, is updated every time we have a reporter who survives another week in this death trap!

We think you'll agree with that one guy who nearly made it out of here alive:
A day at CRETACEOUSLAND! is like no other!


CEO & FOUNDER JUST BEFORE BEING ASKED TO LEAVE DIG

Booted From Hundreds Of Sites Hasn't Stopped Him From Screwing Up Around Here
THE CRETACEOUSLAND! NEWSUNDIES, er, NEWSBRIEFS
The Latest And Sorta-Kinda Up To Date Information On Who...What...Where...When...And Why ME?
On All Things CRETACEOUSLAND!
LAST UPDATED 4 DECEMBER 2016
BOARD OF DIRECTORS HINTING AT 35% HIKE IN ADMISSION FEES
A Lot Lower Than Expected, Says Guy With Too Much Money


The Center for Cretaceous Studies Board of Directors said Friday that they'll slap a 35 percent tax on visitors, starting in 2017 -- days after announcing a controversial deal with Carrier to keep roughly 1,100 air conditioning units that were previously ordered. The Center for Cretaceous Studies is the parent company of Cretaceousland!.
CEO and founder Dr. S Beckmann, a prolific but often typo-filled tweeter with about 15 followers, needed sixty-four posts to spell all the words correctly.
"Cretaceousland! is going to substantially reduce admission fees for families and bus tours and regulations on what pets you can bring into our theme park,"
Mr. Big Shot tweeted.
"But anyone coming here alone, with no extra food such as a sandwich or picnic basket, and then thinks will get into Cretaceousland! without retribution or consequence, is WRONG!

"There will be a tax on our soon to be strong main gate and all other gates of 35% for these individuals ... Please be forewarned prior to making a very expensive mistake! CRETACEOUSLAND! WILL SOON* BE OPEN FOR BUSINESS."
* Note: Opening Day is and always has been 1 May (Mayday!).
The string of tweets follow Dr. Beckmann's announcement last week that he had reached a deal with the Carrier furnace and air-conditioning manufacturer to keep the extra air conditioning units in Indiana, instead of moving them to The Center for installation. There was no word about any new furnaces being ordered for Cretaceousland! offices, which currently average 59º.
But the admissions tax deal -- which purportedly could include $6 million in added revenue and $1 million in job-training grants to Cretaceousland! for new employees over the next 10 years -- has been criticized by liberals and conservatives alike, none of whom want to work here.
Among them are self-described People For Free Admission To See The Dinosaurs president Ernie Slanders and 2008 vice-president Sara Payless, who suggest the deal was an example of
"crony capitalism."
"We were heartbroken when we heard the Board is going to charge incredible amounts to individual visitors,"
said Payless, who just wouldn't shut up.
"The only reason they are increasing the admission fees is to cover rising costs and that is just not right."
Read the REAL story: After Carrier deal, Trump vows tax of 35 percent for US business going overseas
A BOOK ALL DINOSAUR-LOVERS REALLY NEED
A Real Book? Seriously? Available Now? Where? How Do We Get It? Huh? Huh?
Can We Possibly Ask More Questions Or Does This About Cover It?


Yes Virginia, there really
is
a book about our parent company, aka The Center for Cretaceous Studies, aka this death trap!
The world has waited 66 million years - give or take a month - for live Dinosaurs & comedy to come together. Until that happens, here's
our
shot at it.
Grab your copy of
"The Center for Cretaceous Studies"
before they sell out! Ok, that might be stretching it a bit. Anyway, pick one up at these fine bookstore websites:
AuthorHouse (eBook and paperback)