WELCOME TO
CRETACEOUSLAND!
The Center for Cretaceous Studies
and most likely the world's ONLY
Live Dinosaur Reserve & Theme Park
AHHH... SPRINGTIME AT CRETACEOUSLAND
Our Outdoor Habitats Are FULL Of This Kind Of Stuff
PROUD MEMBER OF THE MID-AMERICA PALEONTOLOGICAL SOCIETY
even though they asked us to go away

Look For The Center On Facebook!

why? for what sane reason would you do that?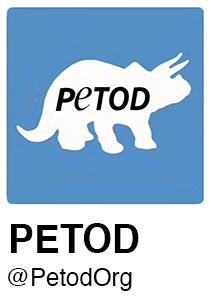 People for the Ethical Treatment Of Dinosaurs. Charter Member Since We Joined Last Week
WELCOME to the official CRETACEOUSLAND! website you poor misguided soul!

You've just discovered the only LIVE Dinosaur reserve and theme park on the entire planet!
What can you expect to find while you're here - besides your worst nightmares coming true? Let's start with terrible lizards that can and will tear you, your family, your friends, and people you don't even know, to shreds with no hesitation whatsoever with a devastation so severe it will actually hurt your ancestors. But don't worry... you can still see them, pet them, run from them, etc.

As the world's only live DinoReserve, CRETACEOUSLAND! is located just a quick ambulance ride from our parent company The Center for Cretaceous Studies. In fact, we fight over the same parking spots.

So detailed and exact in the presentation of natural Cretaceous Period conditions, our scientists have gone to great lengths (+/-2 centimeters) to raise the same vegetation found dozens of millions of years ago -- much to the chagrin of the U.S. EPA. We've been in court over most of this stuff for decades.

We'll give you the opportunity to see Cretaceous Period flora and fauna in outdoor Habitats (HABs) as they originally, naturally appeared 65+ MA (Million Years Ago), or BA as we call it (Before Asteroid). This also gives you an excellent chance to contract some heretofore unknown and probably incurable prehistoric disease or allergy!

See? It just keeps getting better and better, doesn't it?

Take a moment or three to see what's in store for you and your family this summer when you resign yourself into visiting CRETACEOUSLAND! as a last ditch vacation idea, which it usually is.

Educational? Nope. Fun? Nah. Good value for the money? No way.
None of these apply here. But odds are, you'll never get to, er... want to... leave!

BOOKMARK this site for future news and information, as the CRETACEOUSLAND! company information (aka: water cooler rumors), found below, is updated every time we have a reporter who survives another week in this death trap!

We think you'll agree with that one guy who nearly made it out of here alive:
A day at CRETACEOUSLAND! is like no other!


CEO & FOUNDER JUST BEFORE BEING ASKED TO LEAVE DIG

Booted From Hundreds Of Sites Hasn't Stopped Him From Screwing Up Around Here
THE CRETACEOUSLAND! NEWSUNDIES, er, NEWSBRIEFS
The Latest And Sorta-Kinda Up To Date Information On Who...What...Where...When...And Why ME?
On All Things CRETACEOUSLAND!
LAST UPDATED 21 MAY 2016
TOURIST'S NEXT OF KIN SAYS FAMILY FELT 'VIOLATED' AFTER DINO ENCOUNTER
Hey, WE Feel Violated Just Showing Up For Work Around Here. Get In Line.


The remaining family of former Cretaceousland! tourists found themselves in an unexpected spot yesterday: standing
inside
Cretaceousland! near the spot where four
Majungasaurus crenatissimus
supposedly ate... er,
'consumed'
... aw, to heck with it: ATE other family members this past week.
Well, that's the way it usually goes around here.
The group of adults and children were here helping to give out warnings to other visitors about their experience, which included two ambulance rides, one Life Flight helicopter ride and a pair of coupons for 5% off their choice of caskets. With a cost of $196,000, CFI Care was declared the winner, and the Emergency Care Unit teams celebrated by planting a huge garden of roses on the 46-acre recovery parkland area behind the hospital -- all the while keeping emergency crews on hand for any further flights from this death trap. However, Cretaceousland!s rep told family members that the feelings were not mutual.
"It is opportunism at its worst. They feel their deceased relatives weren't complicit in being here,"
Audrey Marx said at this morning's press conference, featuring maple frosted doughnuts.
"Somewhere in their heads they must have thought it
(being eaten by a wild, prehistoric carnivore DinoResident)
an inappropriate way of leaving this life. It clearly wasn't. They are very unhappy that this happened to them and feel violated."
Images of DinoResidents chasing the MPE (Missing, Presumed Eaten) relatives that appeared online have since been taken down.
Read the REAL story: Uma Thurman felt 'violated' after kiss at charity auction
SELFLESS BOOK PROMOTION TO FOLLOW
A Real Book? Seriously? Available Now? Where? Huh? Can We Possibly Ask More Questions?


Yes Virginia, there really
is
a book about our parent company, aka this death trap!
The world has waited 66 million years - give or take a month - for live Dinosaurs & comedy to come together. Until that happens, here's
our
shot at it.
Grab your copy of
"The Center for Cretaceous Studies"
before they sell out! Ok, that might be stretching it a bit. Anyway, pick one up at these fine bookstores:
AuthorHouse (eBook and paperback)