WELCOME TO
CRETACEOUSLAND!
The Center for Cretaceous Studies
and most likely the world's ONLY
Live Dinosaur Reserve & Theme Park
SOMETIME YOU JUST NEED A PLACE TO CRASH
Unfortunately, That Time Is Usually After A Big Meal At The DinoMedCenter
PROUD MEMBER OF THE MID-AMERICA PALEONTOLOGICAL SOCIETY
even though they asked us to go away

Look For The Center On Facebook!

why? for what sane reason would you do that?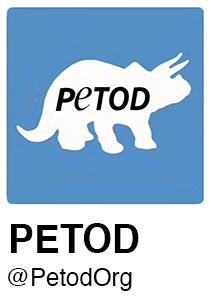 People for the Ethical Treatment Of Dinosaurs. Charter Member Since We Joined Last Week
WELCOME to the official CRETACEOUSLAND! website you poor misguided soul!

You've just discovered the only LIVE Dinosaur reserve and theme park on the entire planet!
With the DinoResidents back for another summer season, here's what you can expect: overloaded senses, ditto the underwear -- plus a lot of ambulances... a LOT. All the while running around and from real, live, breathing, roaring, ferocious, carnivourus, ravenous, killer Dinosaurs inside pretty, flower-filled, outdoor Habitats filled with lovely butterflies and wonderful, chirping birdies!

You'll experience Terrible Lizards that will tear you, your family, your friends, and people you don't even know to shreds with no hesitation whatsoever with a devastation so severe it will actually hurt your ancestors. But don't worry... you can still pet them!

As the world's only live DinoReserve, CRETACEOUSLAND! is located just a quick ambulance ride from The Center for Cretaceous Studies. In fact, we fight over the same parking spots.

So detailed and exact in the presentation of natural Cretaceous Period conditions, our scientists have gone to great lengths (+/-2 centimeters) to raise the same vegetation found dozens of millions of years ago -- much to the chagrin of the U.S. EPA. We've been in court over most of this stuff for decades.

We'll give you the opportunity to see Cretaceous Period flora and fauna in outdoor Habitats (HABs) as they originally, naturally appeared 65+ MA (Million Years Ago), or BA as we call it (Before Asteroid). This also gives you an excellent chance to contract some heretofore unknown and probably incurable prehistoric disease or allergy! See? It just keeps getting better and better, doesn't it?

Take a moment or three to see what's in store for you and your family this summer when you resign yourself into visiting CRETACEOUSLAND! as a last ditch vacation idea, which it usually is.

Educational? Nope. Fun? Nah. Good value for the money? No way.
None of these apply here. But odds are, you'll never get to, er... want to... leave!

BOOKMARK this site for future news and information, as the CRETACEOUSLAND! company information (aka: water cooler rumors), found below, is updated every time we have a reporter who survives another day here during the season!

We think you'll agree with that one guy who made it out of here alive:
A day at CRETACEOUSLAND! is like no other!


CEO & FOUNDER JUST BEFORE BEING ASKED TO LEAVE DIG

Booted From Hundreds Of Sites Hasn't Stopped Him From Screwing Up Around Here
THE CRETACEOUSLAND! NEWSUNDIES, er, NEWSBRIEFS
The Latest And Sorta-Kinda Up To Date Information On Who...What...Where...When...And Why ME?
On All Things CRETACEOUSLAND!
LAST UPDATED 2 SEPTEMBER 2015
NEWLY REFURBISHED HABITAT 60 FIGHTS FOR LIFE AFTER GETTING BILLIONS FROM FEDS
Our Only "Green" Habitat!


HAB60, Cretaceousland!s only renewable energy Habitat, has been a favorite of the current administration in Washington in getting federal tax money for clean energy projects.
Since 2009, HAB60 and The Center for Cretaceous Studies (along with Cretaceousland!), according to estimates, have received $2.9 billion in grants and loan guarantees through the U.S. Department of Loans to undertake solar projects in Cretaceousland! — as well as the construction of a cellulosic ethanol plant near the men's room at Habitat 45.
But in the space of less than a year, HAB60's green health has become critical, leading some to worry whether anyone working in there can survive. Of course, that's the primary concern for just about every place in this crapfest.
On Aug. 3, the brokerage firm BPN Paribola downgraded HAB60's chances from neutral to
"Aint gonna make it"
after several employees dropped 31.76 in tips at The Horseshoe Road Inn in three days. That is nearly $2 more than the average Habitat, said someone.
During last week's assembly attempts, HAB60 employees were scrambling amid concerns that DinoResidents would eat either them or the solar panels they were erecting. Turns out both guesses were correct. This came after news of HAB60's plans to increase the number of solar panels. BluemburgBiz described HAB60 as
"full of animals we don't want to meet,"
and the Habitat's troubles are fueling speculation that tons of new interns coming in soon may be in the offing.
Read the REAL story: Green energy company fights for life after getting billions from feds
KRETACEOUS KITCHEN TO BEGIN SERVING "REAL" FOOD OCTOBER 6
Yeah, Right. They Said The Same Thing Last Year


After the much anticipated wait, C4CS company officials have announced that the Kretaceous Kitchen will start serving real food all-day on October 6. The vote was made last week by the Board of Director (we only have one following last weeks Board of Directors vs.
Alioramus altai
incident). If all of this sounds familiar, it's because it is.
For the past several years, the Kretaceous Kitchen has been testing the notion of serving real food all-day or at least
some
of the day. Customers wanted to be able to grab something other than a barf bag, according to Chef Boyd R. Dee.
In an exclusive interview, mostly because no one else wanted to listen, Dee said,
"This is the consumers' idea. This is what they want us to do. That's why I think it stinks. Do you have any idea how difficult it is to serve real food?"
Some, but not all breakfast items, will be available on as well as dinner and lunch items. Dee noted that
"just because it's real food doesn't mean it's going to be real good, y'know?"
To start spreading the news, the Kitchen will be hosting a test tasting during the C4CS Company Picnic this weekend. Dee would not say if free stomach pumping will still be offered to anyone who can eat anything off the menu and keep it down until the check is paid.
Read the REAL story: Fret not, McDonald's all day breakfast will start nationally on Oct. 6
WEBSITE CHANGES UPDATE
We Give Up

We've been running this "warning" for nearly 9 months now, and Tripod.Lycos has yet to do anything. The C4CS Board of Directors long ago figured that by now this site would no longer be up and running, but here we are.

Tripod is supposedly shutting down the Trellix server or something like that. Basically, it means we'd have to switch to a different program. So far that has yet to happen. So we'll see what takes place instead of shrieking that the sky is falling.

What this means is, if one day you visit this site and it is not available, chances are pretty good that Tripod has shut down the server for this website-producing software. There IS a partial website reconstruction underway, just in case.