WELCOME TO
CRETACEOUSLAND!
The Center for Cretaceous Studies
and most likely the world's ONLY
Live Dinosaur Reserve & Theme Park
CFI CARE AWAITS THE NEXT DINOMOVE VOLUNTEER
Nearly 700 Ambulance/Pizza-Beer Runs Made This Weekend
PROUD MEMBER OF THE MID-AMERICA PALEONTOLOGICAL SOCIETY
even though they asked us to go away

Look For The Center On Facebook!

why? for what sane reason would you do that?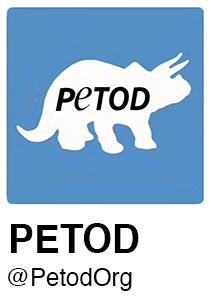 People for the Ethical Treatment Of Dinosaurs. Charter Member Since We Joined Last Week
W
ELCOME to the official CRETACEOUSLAND! website you poor misguided soul!
You've just discovered the
only
LIVE Dinosaur reserve and theme park on the entire planet! What can you expect to find while you're here - besides your worst nightmares coming true?
Well, uh, guess that pretty much sums it up.

Luckily (for us) we just moved the DinoResidents back indoors at The Center for Cretaceous Studies, so now it is nearly safe to visit. 'Nearly' because there always seem to be one or two hiding.

As the world's only outdoor, live DinoReserve, CRETACEOUSLAND! is located just a quick ambulance ride from our parent company The Center for Cretaceous Studies. In fact, we fight over the same parking spots.

So detailed and exact in the presentation of natural Cretaceous Period conditions, our scientists have gone to great lengths (+/-2 centimeters) to raise the same vegetation found dozens of millions of years ago -- much to the chagrin of the U.S. EPA. We've been in court over most of this stuff for decades.

We'll give you the opportunity to see Cretaceous Period flora and fauna in outdoor Habitats (HABs) as they originally, naturally appeared 65+ MA (Million Years Ago), or BA as we call it (Before Asteroid). This also gives you an excellent chance to contract some heretofore unknown and probably incurable prehistoric disease or allergy!

See? It just keeps getting better and better, doesn't it?

Take a moment or three to see what's in store for you and your family next summer when you resign yourself into visiting CRETACEOUSLAND! as a last ditch vacation idea, which it usually is.

Educational? Nope. Fun? Nah. Good value for the money? No way.
None of these apply here. But odds are, you'll never get to, er... want to... leave!

BOOKMARK this site for future news and information, as the CRETACEOUSLAND! company information (aka: water cooler rumors), found below, is updated every time we have a reporter who survives another week in this death trap!

We think you'll agree with that one guy who nearly made it out of here alive:
A day at CRETACEOUSLAND! is like no other!


CEO & FOUNDER JUST BEFORE BEING ASKED TO LEAVE DIG

Booted From Hundreds Of Sites Hasn't Stopped Him From Screwing Up Around Here
THE CRETACEOUSLAND! NEWSUNDIES, er, NEWSBRIEFS
The Latest And Sorta-Kinda Up To Date Information On Who...What...Where...When...And Why ME?
On All Things CRETACEOUSLAND!
LAST UPDATED 15 OCTOBER 2017
HUNDREDS MISSING, FEARED MPE
OR They Went Over To The Horseshoe Road Inn And Never Came Back


The dozens of volunteers for this year's Fall DinoMove watched with horror as Cretaceousland! DinoFeeder (8th Class) Erin Rogers left Sunday's DinoMove on a cart, and he might not be back in time to finish this year's Move. Worse than that, dozens of so-called volunteers are reported MPE although numerous sightings of them have been reported at nearby The Horseshoe Road Inn.
Habitat (HAB)87 DinoHandler Ranthony Bar, originally from Minnesota, drove Rogers to the waiting ambulance as Rogers was releasing gas. As Rogers laid down in the emergency vehicle he instinctively put out his thumb to encourage other volunteers to continue the Fall DinoMove, and it ended awkwardly. Rogers had was missing. He came out of the Move as Brent Hurdley went in as a last day volunteer, and then later left the field in several body bags.
During the final day of the 2017 Fall DinoMove, the DinoMove Supervisor, Patty Pewper, made it official: Rogers broke his collarbone, lost an arm, and part of a leg. Even more concerning is that Cretaceousland! officials said right away that Rogers could miss up to a week at work before his benefits end. It's rare to see live Dinosaur research institutions announce that so early. The last time Rogers broke his collarbone was during the Spring 2017 DinoMove and he missed seven days of work but returned late the following Wednesday.
HAB86 Erin Rogers suffered a broken collarbone and multiple injuries. There's a chance he could miss the rest of the off-season.
— Cretaceousland! October 15, 2017
The injury that sent Erin Rogers to the medical tent, then got EV'd (Emergency Vehicle) to CFI Care.
— Cretaceousland! spokesman, Audrey Marx October 15, 2017
When Rogers left the DinoMove, hundreds of volunteers were already missing. Rumors swirled around the C4CS Campus that most, if not all, of them were hoisting a few cold ones down the road at The Horseshoe Road Inn, and Rogers couldn't move his right arm to hold a beer. He reached across his body with his left arm, and it was hard to not notice that. Probably because most of his left arm was missing Rogers seemed to have words for Bar as he left the field. Nearby witnesses said Rogers wanted to know if Bar was going to The Horseshoe Road Inn at the end of the DInoMove.
Read the REAL story: Aaron Rodgers Has Broken Collarbone, Could Miss Rest of Season
A BOOK ALL DINOSAUR-LOVERS REALLY NEED
A Real Book? Seriously? Available Now? Where? How Do We Get It? Huh? Huh?
Can We Possibly Ask More Questions Or Does This About Cover It?


Yes Virginia, there really
is
a book about our parent company, aka The Center for Cretaceous Studies, aka this death trap!
The world has waited 66 million years - give or take a month - for live Dinosaurs & comedy to come together. Until that happens, here's
our
shot at it.
Grab your copy of
"The Center for Cretaceous Studies"
before they sell out! Ok, that might be stretching it a bit. Anyway, pick one up at these fine bookstore websites:
AuthorHouse (eBook and paperback)