WELCOME TO
CRETACEOUSLAND!
The Center for Cretaceous Studies
and most likely the world's ONLY
Live Dinosaur Reserve & Theme Park
SUMMER SEASON SECURITY IS READY
"We're Ready For Anything!" They Lie.
PROUD MEMBER OF THE MID-AMERICA PALEONTOLOGICAL SOCIETY
even though they asked us to go away

Look For The Center On Facebook!

why? for what sane reason would you do that?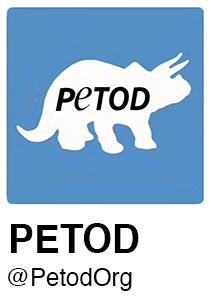 People for the Ethical Treatment Of Dinosaurs. Charter Member Since We Joined Last Week
W
ELCOME to the official CRETACEOUSLAND! website you poor misguided soul!
You've just discovered the
only
LIVE Dinosaur reserve and theme park on the entire planet! What can you expect to find while you're here - besides your worst nightmares coming true?
NOTHING.

Sorry folks, but we moved 'em all back indoors to The Center for Cretaceous Studies for the winter months ago. Where have you been?!?

However, next Spring (1 May), you can once again - or just once - enjoy terrible lizards that can and will tear you, your family, your friends, and people you don't even know, to shreds with no hesitation whatsoever with a devastation so severe it will actually hurt your ancestors. But don't worry... you will still be able to see them, pet them, run from them, etc.

As the world's only live DinoReserve, CRETACEOUSLAND! is located just a quick ambulance ride from our parent company The Center for Cretaceous Studies. In fact, we fight over the same parking spots.

So detailed and exact in the presentation of natural Cretaceous Period conditions, our scientists have gone to great lengths (+/-2 centimeters) to raise the same vegetation found dozens of millions of years ago -- much to the chagrin of the U.S. EPA. We've been in court over most of this stuff for decades.

We'll give you the opportunity to see Cretaceous Period flora and fauna in outdoor Habitats (HABs) as they originally, naturally appeared 65+ MA (Million Years Ago), or BA as we call it (Before Asteroid). This also gives you an excellent chance to contract some heretofore unknown and probably incurable prehistoric disease or allergy!

See? It just keeps getting better and better, doesn't it?

Take a moment or three to see what's in store for you and your family next summer when you resign yourself into visiting CRETACEOUSLAND! as a last ditch vacation idea, which it usually is.

Educational? Nope. Fun? Nah. Good value for the money? No way.
None of these apply here. But odds are, you'll never get to, er... want to... leave!

BOOKMARK this site for future news and information, as the CRETACEOUSLAND! company information (aka: water cooler rumors), found below, is updated every time we have a reporter who survives another week in this death trap!

We think you'll agree with that one guy who nearly made it out of here alive:
A day at CRETACEOUSLAND! is like no other!


CEO & FOUNDER JUST BEFORE BEING ASKED TO LEAVE DIG

Booted From Hundreds Of Sites Hasn't Stopped Him From Screwing Up Around Here
THE CRETACEOUSLAND! NEWSUNDIES, er, NEWSBRIEFS
The Latest And Sorta-Kinda Up To Date Information On Who...What...Where...When...And Why ME?
On All Things CRETACEOUSLAND!
LAST UPDATED 28 APRIL 2017
OPENING DAY WAS TO HAVE BIG BIG BIG EVENT
We Doubt Anyone Would Have Attended Anyway


The last-minute Jay Rule's Fahrt Festival has caused chaos.
There's trouble in Cretaceousland!. The organizers of the much-hyped Fahrt music festival in Habitat 83 have been forced to cancel the Opening Night extravaganza at the last minute.
Tickets for the event described as
"a cultural moment created from a blend of questionable music, tasteless food, and live, man-eating Dinosaurs"
started at $10,000.
The announcement concerning the
"once-in-a-lifetime"
event, because no one would probably survive, was made on Fahrt's Twitter and website after many fans had already purchased their nonrefundable tickets.
Event organizers said they were working to arrange taxi service for those who had already arrived at the Northwest Gate and said refunds had been canceled.
Fahrt Festival originally promised
"culinary delights and luxury"
while moving DinoResidents from The Center's Indoor Paddocks (IPs) to Cretaceousland!s outdoor Habitats (HABs). Instead, attendees complained about disorganization and accommodations in social media posts.
The festival, which was organized by C4CS DinoHandler (3rd Class) Jay Rule, originally scheduled an all-star lineup of entertainers, including some people with names that sound famous. However, everyone canceled the gig when they found out about performing near live Dinosaurs.
Read the REAL story: Ja Rule's lavish Fyre Festival in the Bahamas cancelled at the last minute
A BOOK ALL DINOSAUR-LOVERS REALLY NEED
A Real Book? Seriously? Available Now? Where? How Do We Get It? Huh? Huh?
Can We Possibly Ask More Questions Or Does This About Cover It?


Yes Virginia, there really
is
a book about our parent company, aka The Center for Cretaceous Studies, aka this death trap!
The world has waited 66 million years - give or take a month - for live Dinosaurs & comedy to come together. Until that happens, here's
our
shot at it.
Grab your copy of
"The Center for Cretaceous Studies"
before they sell out! Ok, that might be stretching it a bit. Anyway, pick one up at these fine bookstore websites:
AuthorHouse (eBook and paperback)