The Most Exciting, Cool, Intense, Terrifying, And Horrendous 15 Seconds Of The Rest Of Your Life!!!
PET A DINOSAUR, DAY ONE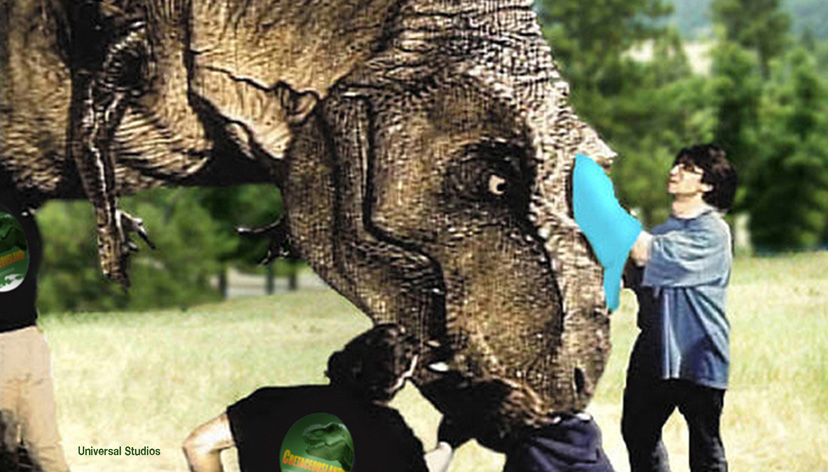 We Attribute What Is About To Happen To Something Our Scientists Call A Learning Curve
Nothing is more "WOW!" than being able to pet a real, live, killing machi... er, uh, that is, a cute, cuddly-wuddly, Dinosaur! Imagine the tales you'll tell when you're back at your physical therapy sessions, waving your artificial limbs in excitement as you relate your amazing stories to shocked, horrified, yet spellbound hospital staff!

PET A 5-TON, 40-FOOT DINOSAUR is available to anyone, young or old, willing or forced, while visiting Cretaceousland!, subject to DinoResident availability. Which, of course, means anytime night or day (These things NEVER stop eating it seems... er, wanting a hug, that is).

PET A DINOSAUR, DAY TWO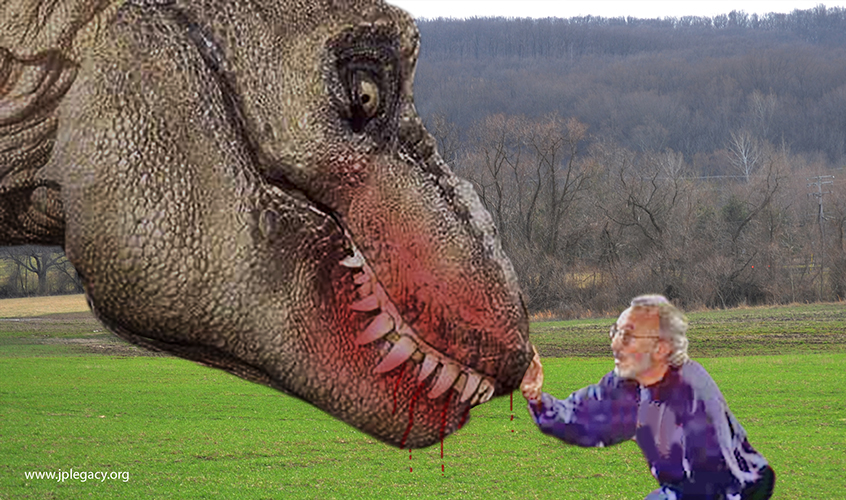 After This Photo We Rebent That Learning Curve Thing
Sorry, but this DinoExperience does not involve our "smaller" species of Velociraptors, Dromaeosaurs, Oviraptors or Sinovenators, and such. No, no, no, my friend. What do you think this is? Some kind of roadside 'gator rasslin' dump? This is the Big Time, pal; Major League encounters only. Only our Greater Carnivores, those weighing in at one ton or over, like our 28-foot Tyrannousaur, 34-foot Spinosaur, 29-foot Abelisaur, and our 38-foot Tyrannotitan, for example, are brought out for your fun and DinoAdventure. If you want "Junior Size" Dinosaurs (under 20 feet in length) you'll need to venture on over to the Kretaceous Kids Petting Zoo. But don't sweat, we have a LOT more of these Greater Carnivores, and they are ALL big.

That means maximum killing power, er, maximum FUN and excitement for the whole family! The photos you take during this DinoExperience will look great sitting on top of the casket during the Remembrance Services.
WHAT?!? YOU THINK THESE ARE CUTE KITTIES?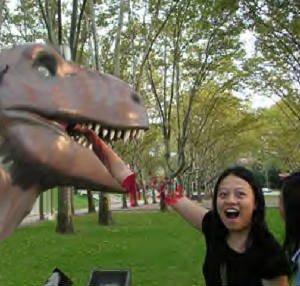 We Have Gauze And Aspirin For Boo-Boos Like This.
Cretaceousland! graciously supplies every Habitat entrant with luxurious 250-count, soft, steak-scented towels (unknowingly donated by the local Holiday Inn) so you can blot away any Dino saliva or blood should you get an ouchie. If you have any arms, you might be able to create a torniquet out of your towel before blacking out.
PET A 5-TON, 40-FOOT DINOSAUR can be found indoors at The Center during colder, wintry months. In the Summer however, you'll be able to pet and play with your favorite top-of-the-food-chain meat eater outside in their natural surroundings right here at Cretaceousland!. Once that gate opens, we suggest running towards them as fast as you can, jumping up and down and screaming their name as loud as possible. Just watch how 'excited' they get. They adore that kind of attention.
Slap the hard, thick skin of a
Tyrannosaur
back leg and yell
"Hello big guy!"
Watch as it looks around as if to say
"What th...?!?"
, then looks down at you, then back to see if anyone else thinks you're an idiot... then leans over and... well, we figure you can guess the results. But WOW! What a fun experience to tell your ancestors as you walk into the light!
THIS IS ONLY GOING TO HURT FOR A FEW SECONDS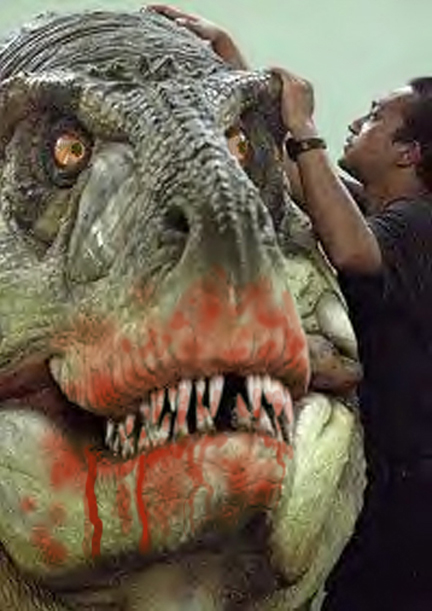 They'll Put Up With This Crap For About, Ohhh 4, 3, 2....
Remember to keep Mr. Happy Waivers with you at ALL times. And please refrain from yelling or screaming directly into the Dinosaur's ears, or poking them in the eye, or kicking them in the shins. Then again, it really doesn't matter. You'll only get to do it once.

Please pay attention to all safety signs, if you can find one. There are absolutely NO flash camera pictures allowed within 100 yards of our DinoResidents. If you don't understand why, go ahead.. try it. If you do, please make sure your camera is tasty and will pass through our Dinosaurs with minimal gastro-intestinal problems (as covered in Page 15 of Mr. Happy Waivers). Also, it will help you tremendously if you can run 100 yards in 3 seconds.