For years, many of our visitors and guests, at least those able to speak through their oxygen masks or ventilator tubes, have gasped and wheezed, wondering why there was no *Special* place to see the Dinosaurs from the Cretaceous Period which lived near water (i.e. the Spinosaurids).
"We didn't think an
Altispinax
would be found in a forested area,"
have been the painful final words of many, many, many (did we mention 'many'?) a guest over the years.
So over the winter of 2008-09 we planned, schemed, guessed, and found enough loose change hidden between the couch cushions in the Reception Area to make those final dreams come true: Give the
Spinosaurus aegypticus, Baryonx walkeri, Altispinax dunkeri, Spinosaurus maroccanus
and their (mostly) fish-eating brothers the Habitat they - and you - but mostly they - deserve!
However, we didn't build Cretaceousland! DINOQUATICALAND just for the dining pleasure of our
Spinosaurids
. Noooooo. We sorta built it with YOU in mind. Would a little wading pool suffice? No. Or maybe an every day, ho-hum Olympic-sized pool? Nope. Not since one adult-sized
Baryonx
pretty much fills up an Olympic-sized swimming pool! Don't ask how we know this.
We wanted to go first class all the way! Unfortunately, we only had funding for third class. Plans were immediately stolen, er, drawn up for a huge swimmin' hole complex! This watery additon to Cretaceousland! is home to the world's longest water slide of any live Dinosaur Theme Park, plus a large, relaxing swimming area for kids and adults.
*Please Note: Our definition of the word "relaxing" may not necessarily match
your
definition of 'relaxing'.
Not stopping there, we built a smaller, yet just as dangerous kiddie pool within screaming distance of the Main Pool. And best yet: Life-Flight helicopter landing zones are located only a few yards away from the whole catastrophe-in-the-making!
BREATHE VERY VERY QUIETLY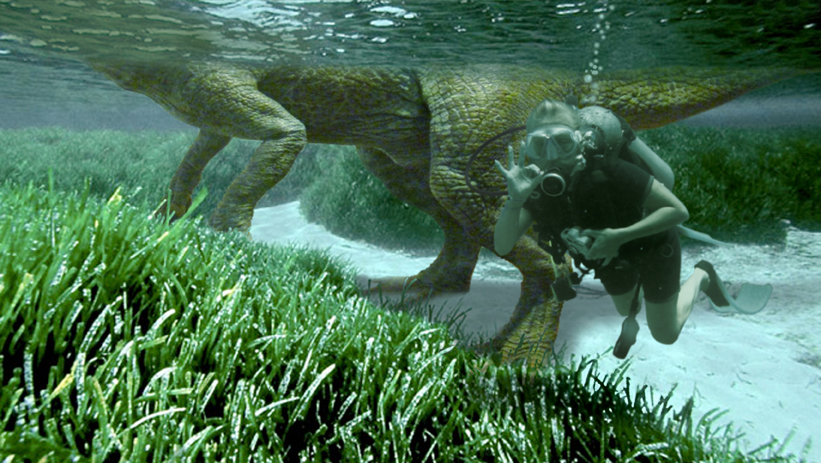 This Comes In At Number 5900000004 On Our "Most Safest Things To Do" List
LAKE DEATH
Boating, skiing, fishing, swimming, snorkeling, diving, sunbathing, building sand castles, splashing, getting wet... you can enjoy none of these things at Cretaceousland!s LAKE DEATH. Spend some quality time (did we just say that?!?) with your family and friends but make sure it's quick. Spend time swimming with the fishes while you're here. Cast off from the Deadly Docks boat launch and enjoy several nanoseconds of watery recreation and mouth-to-mouth resuscitation.

Take a ride on our many glass-bottomed tour boats, or at least the one that is still floating, and see dozens of sunken wrecks of our former glass-bottomed tour boats. Or spend a leisurely day... nah... there's no such thing around here. And yet, people still flock to the beach like there's no tomorrow. Probably because there is no tomorrow for the people who flock here. For those looking to work on that tan, our beaches have several grains of sand between the boulders of our exquisite beaches and many areas that hardly have any yellow ribbon with "DO NOT CROSS - C4CS CORONER" written on them.

Each year LAKE DEATH hosts our semi-annual fishing contest. Last year's winner reeled in a 45-foot Spinosaurus. Or maybe it was the other way around. Come to think of it, we never did give away that trophy. In any case, LAKE DEATH is a great place to spot greater carnivores such as Spinosaurs, Angaturamas, Oxalaias, Irritators, Baryonyx, Suchomimus, and even the cute, little Richardoestesia. There are many non-fish eaters that use LAKE DEATH as a watering hole, a bathing spot, or some place to tinkle. We don't recommend swimming in those areas.

The C4CS Beach Patrol maintains several lifeguard shacks. Someday we hope to have lifeguards stationed there. Say... you wouldn't be interested in life guarding, would ya?


WATER SLIDE SERVES UP TO 35 MEALS PER HOUR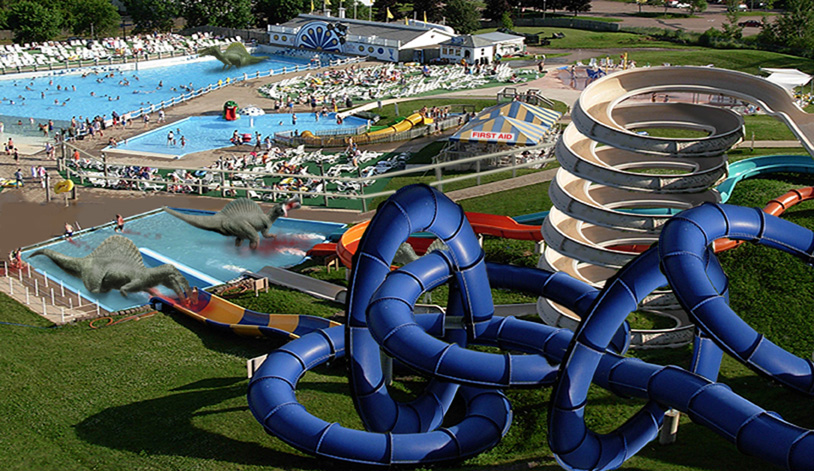 Directions: Left, Right, Up, Left, Down, Right, Left, Up, Left, Right, Down... Eh, You Get The Idea
THE CRETACEOUSLAND! WATER SLIDES
Park visitors can see the top of the Cretaceousland! WATER SLIDE [nicknamed 'Slide Of Death' by work crews and the first 10,000 visitors] from every place inside Cretaceousland! when the clouds don't obscure it. Along the climb to the top we've built strategically placed Rest Stops, complete with oxygen vending machines, for your convenience.
Our nearly-finished slides, now leaking from only the critical spots, have been determined by C4CS Safety Supervisors to be
"safe enough"
. Don't worry, we've added a sandpaper-like surface into the slide before you reach these construction areas which slow you down naturally. You'll end up with nothing more than 3rd degree road rash.
Please dress accordingly. The winds at these heights are brisk and very cold. You may pass several mountaineering expeditions on the way to the top. Even with the new "collision lights" installed, there have been many 'near misses' with airline traffic in and out of O'Hare International and Midway Airports. C4CS Engineers have already redesigned parts of the WATER SLIDE to eliminate some of the first degree burns on your skin as you re-enter the atmosphere.
Once you've reached the top, please listen for an audible "beep" countdown and subsequent green light telling you it is safe -- or safe enough -- to begin your descent. Now, some water parks have so-called "slides" that are over before you know it. Not ours. The Cretaceousland! WATER SLIDE is soooo long, your kids will be in a different school grade by the time they splash into the shallow pool* at the bottom.
NOTE:
"pool" may or may not have actual water in it.
Over eighty-six different construction crews built the darn things. The double slide is thought to be several miles in length. At one point it actually merges with I-55. We suggest you bring along an extra swimsuit since your first pair will wear out before your slide is finished.
"Splashdown" at the end is always exciting - if only because the resident
Suchomimus
and
Baryonyx
have figured out this contraption is equivalent to a giant vending machine. As you shoot out that final corner at about 235 mph, nosebleed and all, and see a 33-foot, 2-ton, tourist-friendly animal - or two or eight of them - waiting for your arrival, we're pretty sure you'll know when the ride is over. Nothing says "done" like a group of
Spinosaurids
arguing who gets to use your legs to make a wish. Maybe you'll get lucky and follow a fat guy down the CRETACEOUSLAND! WATER SLIDE.
RELAXING AT THE CRETACEOUS LAGOON
For a much more relaxing swim, try
Suchomimus
Feed Zone Number Seve... er, THE CRETACEOUS LAGOON which is just a fancy-schmancy name we gave to our swimming pool. Here you'll find beautiful landscaping, piped in island music, wicker chairs and small tables set about that accent the pool area and do a pretty good job of hiding the Dinosaurs. Sit back, have a cute, watered-down drink from a glass with a little umbrella in it, and watch as the DinoResidents tear someone ELSE apart for once. Or at least until they spot you.
As for the general layout, THE CRETACEOUS LAGOON circles a man-made island that is in no way safe from any species of Dinosaur lurking nearby. A short-order bar and grill are located on one end of the island, behind an electrified, razor-wire topped security fence. And yet none of our staff cares to work there.
You can either swim right up to the always-open bar in the pool or pull up a bar stool at the pool's edge. If you prefer, find a folding chair near the pool to relax in, sometimes for as long as 48 seconds! At times you'll actually begin to think you'll have an opportunity to do some of that "relaxin" stuff. You might even contemplate taking a dip into the warm waters of the inviting pool. [No lifeguards since 1971] Try a backstroke, breaststroke, or a style used here quite often - "flailing". Of course, all of this usually ends the very moment the screaming, panic, and running begin.
Since the installation of the new 1,772,318-gallon per minute filtration system, blood in the water of THE CRETACEOUS LAGOON is rarely ever seen any more, except on Tuesdays through Saturdays. However, if you should happen to spot a shirt or maybe a shoe floating in the Lagoon, specially if the shoe still has a foot in it or partial leg attached, please report this at once to one of our friendly Lagoon Staff, if you can find one. Not that they'll do anything about it - there's no bonus for cleaning the pool.
KIDDIE POOL - WADING POOL - BLEEDING AREA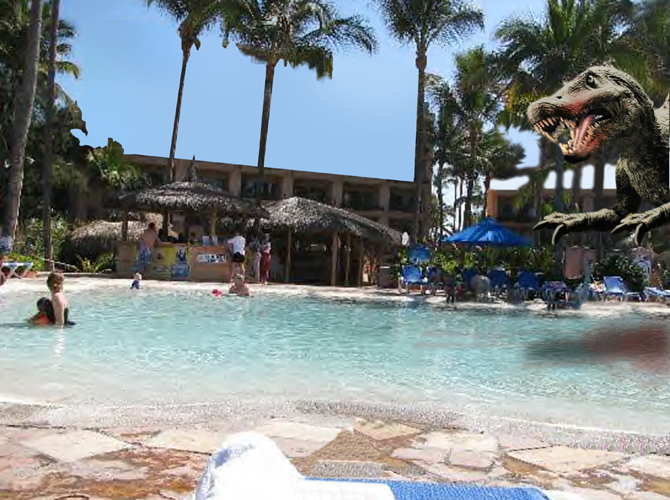 Another Relaxing Day... AKA "Four Minutes At The Pool"... Right Down The Toilet
KRETACEOUS KIDDIE POOL
Located only a few feet away, though not quite out of screaming distance, the KRETACEOUS KIDDIE POOL was designed to resemble an actual Cretaceous Period pond. Meaning there is probably mosquito larvae, weeds, swamp grass, and who-knows-what in there. Designed with one end "open", meaning a gently sloping end which allows kiddies of all ages to walk in and out of the water with no fear of falling over an edge and hurting themselves. This is where the bloodied water laps softly along the front "open" end. The KRETACEOUS KIDDIE POOL is only two feet deep at its lowest point in the back. Deep enough to drown in but certainly no place for your offspring to hide from their fate.
Interestingly, while the
Baryonx
's "snap" or "strike" out at prey in the CRETACEOUS LAGOON, here at the KRETACEOUS KIDDIE POOL they just sort of 'graze' leisurely... taking their time to pick and choose. About the same way you munch on potato chips.
SWIMMING WITH DINOSAURS is a great way to cool off after a day of RUNNING FROM DINOSAURS or the other heart-stopping, brain-numbing activities inside the rest of the Reserve. Or just a great way to end your day at Cretaceousland! - period - - if ya know what we mean.
To Help Pay For Pool Cleaning Supplies, Write


CretaceouStudies@aol.com or CretaceouStudies@yahoo.com or CretaceouStudies@gmail.com